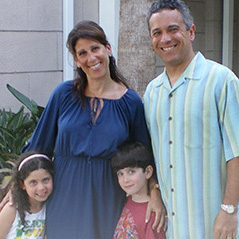 My profession gives me a unique opportunity to be a part of and give back to my community. I get to make a difference in people's lives: making them feel better about themselves and their appearance, and also improving their oral health.
I love meeting and interacting with so many different types of people and personalities. Everyone I meet is unique: people are shy, outgoing, serious, or funny. I enjoy talking with patients, learning about them, and seeing the young ones grow up before my eyes. Being around so many children definitely keeps me young!
It's rewarding to practice orthodontics in a small town. I develop relationships with many of the adults and have the opportunity to treat friends and my children's friends, too. When I'm out shopping, or at a community event, I see so many people I've met through my work: it's a good feeling when they greet me with a smile!
Education
I've now practiced orthodontics for over 30 years. I was introduced to dentistry by my father, a retired dentist, and have always loved working with people, especially kids, and helping others.
After growing up in Bayside in Queens, I graduated from Lafayette College with a Bachelor of Arts in Biology. I then obtained my Doctorate of Dental Medicine (DMD) at the University of Pennsylvania School of Dental Medicine. Returning to New York, I completed an orthodontic residency and received my Certificate in Orthodontics at NYU College of Dentistry.
Professional Affiliations and Continuing Education
I am an active member of the:
American Association of Orthodontists
Northeast Society of Orthodontists
World Federation of Orthodontists
American Dental Association
New York State Dental Society
9th District Dental Society
Through these organizations, I attend various meetings and continuing education lectures.
Dentistry, and the orthodontics specialty, is constantly advancing. With new materials, innovative technologies, and changes in methodologies, it is crucial I stay current on the latest developments. With continuing education, I am able to assess new options and incorporate the best – those that improve diagnostics, patient experience, and results – into the practice.
In the Community
I originally opened the practice for the purpose of serving and becoming part of the community. As it's a small town, I had an opportunity to really make a difference for people and give back.
Each year I sponsor Little League and softball teams, provide mouthguards to the youth football leagues, and speak at school health fairs. In doing so, I hope to make this a healthier, happier community for all.
Beyond the Office
Time with family is my priority when I'm not treating patients. My wife Ellen and I raised our twins, Joshua and Sydney, who are now freshmen in college, in Ardsley. We're not empty-nesters, though, as our two dogs, Lucky and Ginger, enjoy taking us on long walks.
I enjoy playing golf and love to travel. I'm a foodie, as well, so dinner and a bottle of wine at a nice restaurant with friends is something to look forward to. Of course, I'm a huge NY sports fan, cheering for the Mets, Giants, and Knicks.